Rekindle the Joy of Reading – Minervas Kiste
"The more that you read, the more things you will know. The more that you learn, the more places you'll go."
– DR. SEUSS
THE PROBLEM
FALLING BACK IN LOVE WITH READING
Reading is an invaluable skill in our lives. However, according to the PISA study of 2018, 1 in 4 15-year-old students in OECD countries are unable to complete even the most basic reading tasks. Meaning they are likely to struggle in an increasingly digital world.

Let's rekindle the spark and joy that teenagers once had as kids and encourage them to pick up a book again.
"Reading is the gateway skill that makes
all other learning possible."
– BARACK OBAMA
THE PROCESS
MAKING A READER
Where are user issues? What are the biggest pain points? We start by analyzing the user journey from the first reading impulse to ending up reading. There are three ways for users to actively find or look for books. On the internet, they can discover books through online shops, online communities, and recommendations (or ads) on social media. While avid readers might have a higher tolerance, casual readers are easily overwhelmed and scared off. The entire process of looking for books needs to be simplified.

Books and reading are often associated with school, homework, and mandatory tasks – readers need to be self-motivated. Particularly for teens the opinions and recommendations of their friends and peers hold great value.
Find the right book at the right time for the right reason.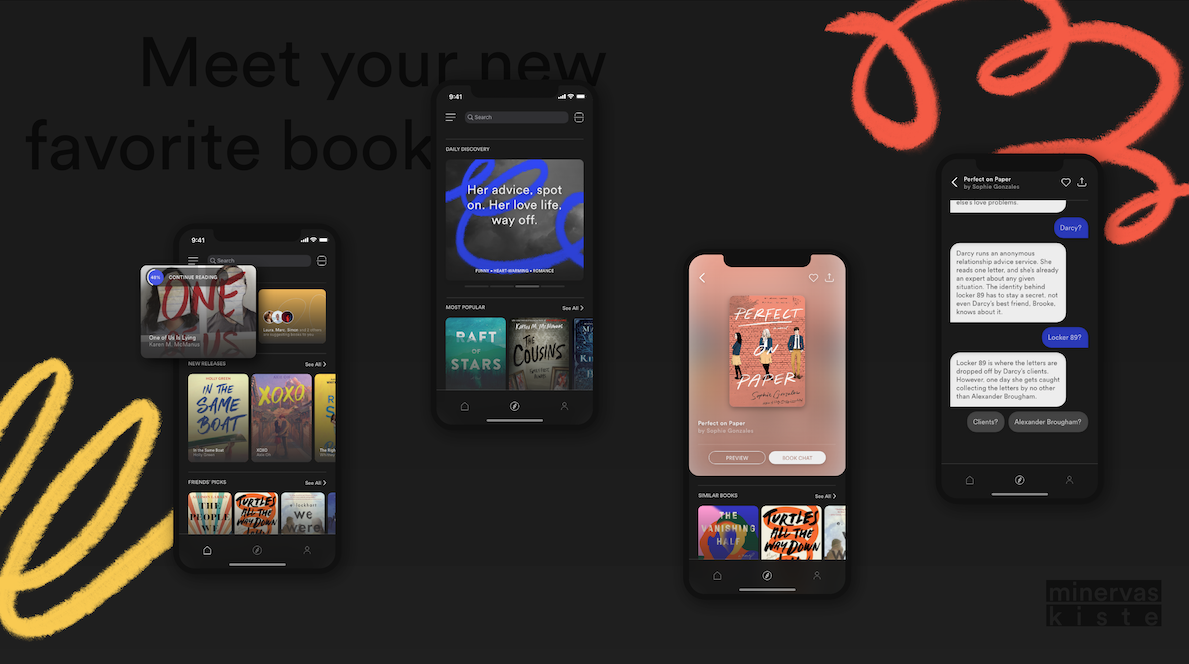 THE RESULTS
SWIPE, LIKE, SHARE. AND START READING
Minervas Kiste is an online reading plattform especially for teen readers. Users can send and receive book suggestion from their friends. They can discover the plot by chatting with the book, explore IRL by using the scan feature in libraries and bookstores, and find their new favorite book through algorithm-based recommendations.
---
CONTEXT
BA Communication Design
Bachelor Thesis 2018
Hochschule für Gestaltung
Schwäbisch Gmünd

supervised by
Prof. Daniel Utz
Prof. Jürgen Hoffmann