The Future of Sleep – Sleeno
In the pursuit of health we meditate, take vitamins, or go to the gym, completely overlooking the importance of sleep. It is time to recognize and unlock the power of healthy sleep.
Sleep is our human superpower and the most natural method of performance enhancement.
THE PROBLEM
WHY IS SLEEP SO IMPORTANT
We procrastinate sleep and end up sleeping throughout the day. It seems like there is always something more relevant, more productive, more meaningful to do than simply going to sleep.

Those who pull an all-nighter will feel the consequences the next day. And with the help of artificially energizing substances like coffee or energy drinks the immediate consequences of insufficient sleep can easily be avoided. However long term sleep deprivation can lead to chronic sleep disorders and even develop into mental illnesses. It increases the risk of heart disease, strokes and diabetes. Sleep deprivation is a risk for physical and mental health.
We believe that everyone deserves to wake up well rested and fully energized.
THE PROCESS
HOW DO WE IMPROVE SLEEP QUALITY
In conversations with our team of experts, which consists of young, future-oriented people from the fields of general medicine, sleep medicine and psychology, we were able to collect valuable findings providing us with the scientific backbone of the project. People who are struggling with their sleep regularly provided us with important insights into real problems. With the help of user feedback, we were able to iteratively design a comprehensive sleep optimization system that adapts to the sleeping needs of the user through constant data collection instead of the other way around.

Based on the collection of relevant information, health data can be put into relation to each other and thus increase the reference to personal responsibility or attribute more relevance to one's own well-being, meaningfully. The passively collected data provide the basis for an optimal, individual adjustment of the spatial sleeping environment for each night. SleenoApp can be combined with any fitness tracker and provides the data collection component necessary for individual room adjustment. Basically, the collected data is used for self-optimization but can also be used for pattern recognition in anamnesis or for protocol purposes in psychological therapies.
Introducing the future of sleep: the sleeno ecosystem.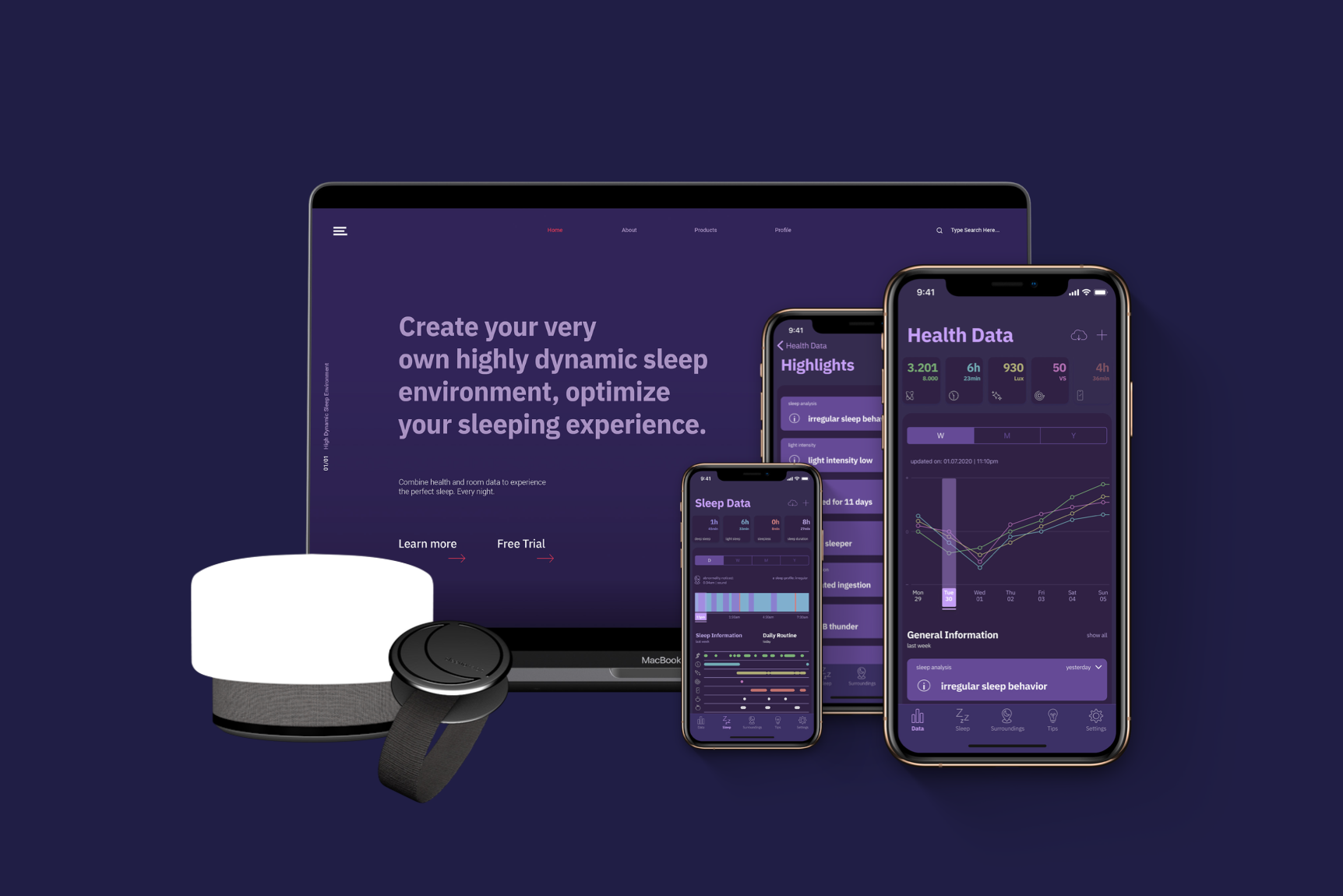 THE RESULTS
SLEEPING BETTER ONE NIGHT AT A TIME
The product name is a merger of "sleep innovation". Sleeno's mission is to help its users to a well-rested, healthy lifestyle by discovering deviations in sleep behavior early on and turning them into positive sleep experiences.

The sleeno ecosystem encompasses a phone app, a sleep tracker, and a smart sleep station for the home. With sleeno, you receive information and change instructions for your daily routine and can control linked room elements or adapt them to your individual sleeping behavior based on the data collected by the system components SleenoApp and SleenoHabit through SleenoSphere.
---
CONTEXT
MA Strategic Design
Hochschule für Gestaltung
Schwäbisch Gmünd

supervised by
Prof. Dr. Ulrich Barnhöfer
Thomas Schönweitz
TEAM
Seda Hancer
Sina Schulz
Maximilian Himmelspach